हिंदी में पढ़ने के लिए यहां क्लिक करें
CGHS facilities are a great asset to have and well deserved to whom they are given. Lack of Information is what holds potential beneficiaries back and leads to drastic circumstances. 
I was also once in your shoes and it was quite difficult, so here are the most important things that you must know about CGHS which I experienced when I was also going through the process. May you find it useful!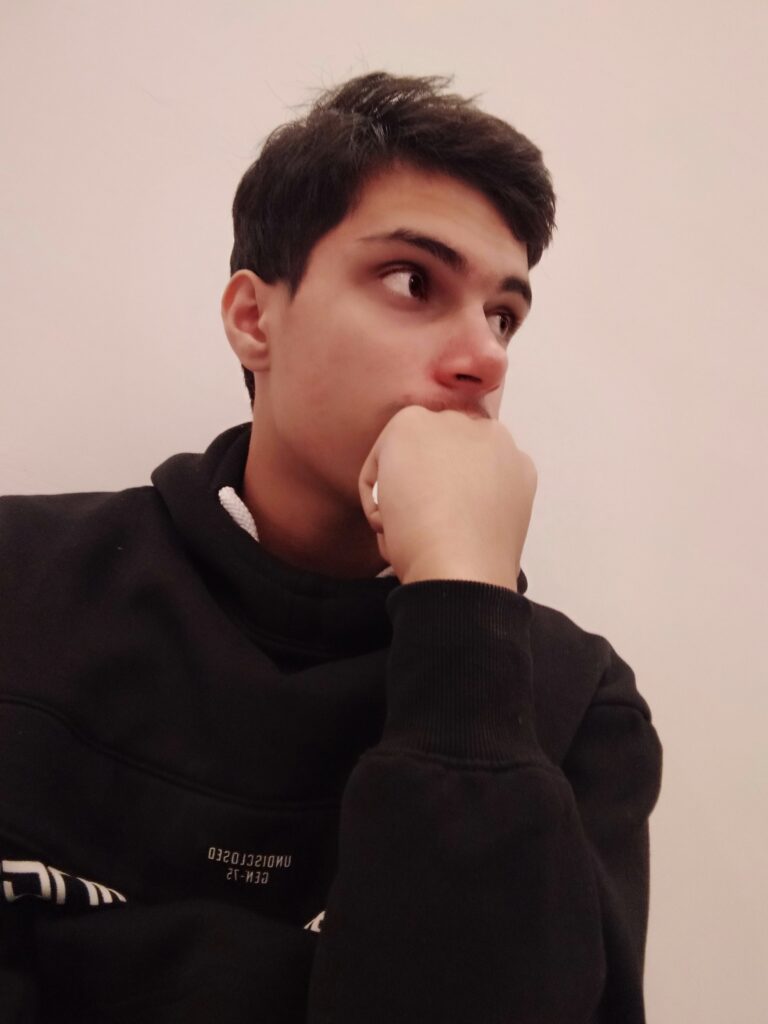 Steps to finally getting benefits of CGHS 
Eligibility

– Are you eligible for CGHS 

Application

– Applying for Central Government Health Card

Usage

– Use the card for checkups, referrals, refills, and reimbursements.
We are going to discuss every step's technicalities in detail but let me give you a rough idea of how things work. You can check CGHS eligibility for the list under, but if you are reading this article, you likely are. Second, you have to fill out a Central Government Health Scheme application form to get CGHS health cards for you and your family (family criteria are also written in the article).
You can fill out the form online on the CGHS website and then print it out or use this form (CGHS form for Pensioners // CGHS form for Serving), both work just fine. 
With the form completely filled serving employees have to reach out to their superior and they will assist further, a monthly installment will begin to deduct from your bank account as a medical allowance and you avail of CGHS facilities.
For Pensioners, you need to fill out the pensioners' form, all the details required are mentioned in your PPO book (keep it with you all the time). After filling out the form you also need a DD (demand draft) to pay the medical allowance. 
The amount of demand draft and ward entitlement is decided according to your pay scale post-retirement, details regarding it are given below in the article. Then you just have to submit the documents application and DD to your nearest CGHS city's CGHS HQ or AD's office. 
CGHS facilities are for everyone if you are receding in the CGHS area or not, just follow the steps and avail it for your family and self.  How to use CGHS CARD is also at the bottom of the article.
Facilities available under CGHS / CGHS Health Card Benefits
OPD Treatment at WCs (Welfare Centers specially made for CGHS beneficiaries) includes issues with medicines.

Specialist Consultation at Polyclinic/Govt. Hospitals and at CGHS empanelled hospitals after referral by CGHS.

OPD/ Indoor treatment at Government and empanelled Hospitals.

Investigations at Government and empanelled Diagnostic centers.

A cashless facility is available for treatment in empanelled hospitals and diagnostic centers for Pensioners and other identified beneficiaries.

Reimbursement of expenses for treatment availed in Govt. /Private Hospitals under emergency and specific treatment advised by Govt. Specialist or Specialist of Pvt. HCOs duly endorsed by the CMO/MO (Chief Medical Officer/ Medical Officer) of WCs.

Reimbursement of expenses incurred for the purchase of hearing aids, artificial limbs, appliances, etc., after obtaining permission.

Family Welfare, Maternity, and Child Health Services.

Medical consultation. Dispensing of medicines in Ayurveda, Homeopathy, Unani and Siddha systems of medicines (AYUSH)
Eligibility for Joining CGHS
All Central Govt. employees and their dependant family members residing in CGHS-covered areas. 

Central Govt Pensioners and their eligible family members getting pensions from Central Civil Estimates 

Sitting and Ex-Members of Parliament 

Ex-Governors & Lt. Governors 

Freedom Fighters 

Ex-Vice Presidents 

Sitting and Ex-Judges of Supreme Court & High Courts

Employees and pensioners of certain autonomous organizations in Delhi 

Journalists (in Delhi )Accredited with PIB ( for OPD & at RML Hospital) 

Delhi Police Personnel posted in Delhi 

Railway Board employees
Here is a  detailed list. If the above list doesn't have your department see the list given.
You can apply online for a Central Government Health Scheme card by going to the CGHS Online Portal, here is a referral video:-
Serving employee
Passport size photo of every family member

Proof of residency

Age proof of the dependent

Proof of stay of the dependent (, like a copy of Ration Card / Election ID / Pass Port / Identity Card issued by College / School / University / Bank Pass Book, etc)

Disability certificate in case any dependent is differently-abled and above 25 years
For Pensioners
Passport size photo of every family member

Proof of residency

Age proof of the dependent

Proof of stay of the dependent (, like a copy of Ration Card / Election ID / Pass Port / Identity Card issued by College / School / University / Bank Pass Book, etc)

Disability certificate in case any dependent is differently-abled and above 25 years

Attested copies of PPO and Last Pay Certificate

Surrender Certificate if CGHS card was issued during service

Demand Draft
The term 'family' means and includes- 
Husband / Wife* (* First wife only)

Dependant Parents / Step Mother ( in case of adoption, only adoptive & not real parents

 If the adoptive father has more than one wife, the first wife only.

A female employee has a choice to include either her dependent parents or her dependent parents – in law; the option exercise can be changed only once during service.

Children including legally adopted children, stepchildren, and children taken as wards subject to the following conditions:
 Son is eligible till he starts earning or attains the age of 25 years or gets married whichever is earlier.

 However, in case the son is suffering from any permanent disability of any kind (physical or mental) he is eligible for CGHS benefits even after 25yrs.

 Disability means blindness, low vision, leprosy-cured, hearing impairment, locomotor disability, mental retardation, or mental illness. A disability certificate from Medical Board is required.

 The daughter is eligible till she starts earning, or gets married, whichever is earlier (irrespective of age).
For pensioners, a DD is required to pay their respective medical allowance. It is calculated according to pensioners' post-retirement pay grade.
Pensioners who want to avail of CGHS facilities can make contributions either on yearly basis or one time ( ten yrs ) contribution for whole life validity. Make a DD accordingly.
If a CGHS card holder is admitted to IPD then he is given a ward according to his pay scale. 
If you are a Serving employee then get these documents attested by your department and then submit them to the nearest CGHS city CGHS HQ or AD's office. Pensioners can directly go to the HQ or AD's office.
A temporary card will be provided to you immediately or in after 2 or 3 days. You can use it until the original card is dispatched. The original card for every family member will reach your allotted Welfare Center in or after 3 weeks. You can collect it from there.
This is what an original CGHS card looks like, you will get one after the process is complete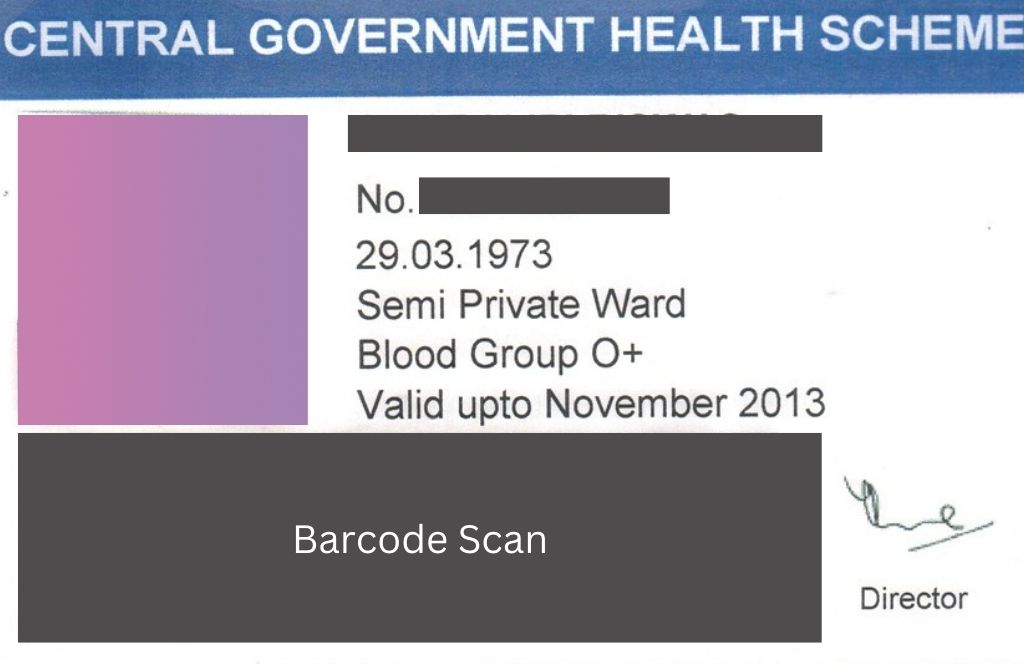 CGHS cards can be used for various purposes but the procedure is the same for every one of them. Here are some of the central government health card benefits:–
Medicinal Refill

Checkup

Hospitalization

Surgical Reimbursement

Ayurvedic or Allopathic treatments
Medicinal Refill
Visit your nearest WC's Medical dispensary and get your refill. You have to pay for your medicines as per CGHS/Government rates and make a reimbursement claim for them afterward.
Hospitalization and Surgery
For any of it, you first have to visit your allotted WC and book an appointment, if the medical officer recommends hospitalization then you can get hospitalized. He will give you a reference letter that will be used during the reimbursement process.
Fill out these reimbursement forms (CGHS claim form for pensioners // Serving) plus attach the required documents and submit the form to the nearest WC or CGHS AD's Office.
Emergency
In a state of emergency, if you didn't have time to visit WC you can take the patient directly to any CGHS-empanelled private hospital or any government hospital. Show your CGHS card to make the treatment according to CGHS rates. At the time of discharge make sure to take the Emergency certificate from the hospital it is essential for reimbursement claims in emergency cases.
Check your city's empanelled hospitals and dispensaries from here.
Documents Required for Reimbursement Claim
Photo Copy of CGHS card of the principal cardholder along with patients card

Copy of permission letter if any 

Referral letter from MO if not an emergency case

 Emergency Certificate (Original), in case of emergency

Copy of Discharge summary

Ambulance certificate (Original), if any

Original bills, memos, vouchers, etc. for reimbursement claims. (Suggested to take pictures before submitting)
If all the documents are correct then your reimbursement will be made within a month at least. The reimbursement claiming period is 3 months, claim your bill before three months get passed after the discharge or for any reason, it gets delayed then add a ROD (Reson of Delay) Letter along with your documents explaining your reason for delay.
Wellness Centre Timings and Registration
Wellness Centers are open from 7:30 AM to 2:00 PM on all working days except emergency services wherever applicable.
Timings of WCs with emergency services are as follows:
WC timing 7:30 AM to 1:30 PM

Limited Emergency services from

1:30 PM to 7:30 AM
The Wellness Centres remain closed on all Central Govt. holidays. However, in case of three consecutive holidays occurring together, Wellness Centres will not be closed for more than 2 consecutive days.
Registration
The registration of the beneficiaries is done online. This registration is either self-registration (seeking a prior appointment) or walk-in registration (coming to the Wellness center and getting registered at the Registration Counter).
Registration starts at the opening of the Centre and is stopped 15 minutes before the scheduled closing time of the Centre. However, no serious patient returned unattended.
Online Appointment (Self-Registration)
Online appointments with the Medical Officer of the Wellness Centre or with a Specialist who visits a particular Wellness Center can be booked by visiting the CGHS portal cghs.nic.in through the link Book Appointment.
The steps for booking an online appointment (Self Registration) are as follows:
Visit the website

cghs.nic.in.

Click on the option Book Appointment available on the RHS of the screen

Enter beneficiary ID and click on Generate OTP.

An OTP (One Time Password) will be sent to the registered mobile no. of the beneficiary or the primary card holder's mobile if that is the only registered number.

Enter OTP and click on Proceed.

Beneficiary details are displayed on the screen. Click on Proceed button if the details displayed on the screen are correct otherwise click on NOT YOU. In that case, log in again and proceed as above.

Select Specialty, Dispensary, and Doctor as per your choice and click on Proceed button. A beneficiary can select a GDMO (General Duty Medical Officer) or a Specialist from any of the CGHS wellness centers.

A calendar is displayed to choose a date that has the availability of an appointment for the selected doctor. Select the date for the appointment.

On selecting a date, the top of the screen shows the slot timings and the appointments available. A beneficiary can choose the desired slot.

Click on Proceed to Book Appointment. One can go back and make changes by using the Change the Specialty button.

On clicking the button Proceed to Book Appointment, beneficiary details and the appointment details are displayed on the screen for confirmation.

Click on the option Confirm to Book Appointment, Confirmation status page is displayed. One can print the confirmation slip, or book another appointment. The system would also send an SMS to the registered mobile number.
Appointment for the GDMO can be taken within 72 hours of the date of appointment whereas appointment for the Specialist can be taken within 1 month of the date of appointment. Online appointments cannot be made for the same day or date. (This window period may change depending upon the decisions taken from time to time)
Senior Citizens above the age of 75 years can book the appointment by calling the CGHS Helpline no 18002088900 from their registered mobile number.
Cities under CGHS or CGHS cities.

 

1. Ahmedabad 2 Allahabad 3 Bengaluru 4 Bhopal 5 Bhubaneswar 6. Kolkata 7. Chandigarh 8 Chennai 9. Dehradun 10.Delhi & NCR 11.Guwahati 12. Hyderabad 13. Jabalpur, 14. Jaipur 15 Jammu 16. Kanpur 17. Lucknow 18. Meerut 19. Mumbai 20. Nagpur 21 Patna 22.Pune 23. Ranchi 24. Shillong 25. Thiruvananthapuram
Whom Should I approach in case the CGHS Card is not issued to me in the prescribed time?


Contact Joint Director (HQ), CGHS, CGHS building, RK Puram Sector-12, New Delhi in case of Delhi and Addl. Director of City in case of other cities.


What should I do if I lose my CGHS Plastic Card?



Application is to be submitted to AD/JD along with two photographs and an IPO for Rs. 50/- for the issue of the duplicate card. Indian Postal Order payable to " P.A.O. CGHS"
CGHS Plastic cards have the following color at the top:


i. Serving Government employees – Blue




ii. Pensioners, ex-MPs, Freedom Fighters, etc. – Green




iii. Member of Parliament – Red




iv. Beneficiaries of Autonomous Bodies / Journalist – Yellow
This is a detailed PDF for all the frequently asked questions regarding CGHS read it to find any query that you might have left. For any queries and assistance write your queries in the comment box and we will be happy to help.